Gooood evening everyone!
Its been a long time since an installment of this series and I'm going to remedy that.  Part of that is, I haven't felt like I've had anything good to write about and I don't want to write stuff that makes me go "blah."  But finally, this week has been worthy of writing about!
*I had wanted this to go up on Saturday, but Internet had different plans.  I am grateful for that though, because I had a blog free Easter weekend that was a blessing in disguise.  But that is the reason for the lack of posts!  Hope you had a fantasic Easter weekend too!*
1.  Achievement: Going on my first college visit and surviving.  I visited a small community college on Friday because it has a baking and pastry certificate.  I liked it and met a super nice gal named Abigail.  So, I got an idea of what a college visit will look like, a free t-shirt, and a new friend.  Pretty successful if you ask me.
2. Favorite Buy.  I found $25 Nike running shoes at Platos Closet, a store that buys good clothes from college students and resells them.  The shoes are grey with light blue and light pink accents and I LOVE them.  They were exactly my size and are so comfortable – I took them on a run with Gracie already.
3. Music: 1 Girl Nation.  A four girl band with fun fun fun songs.  They always make me want to get up and dance, which is good in the morning!   My favorites are "Vertical" and "Count Your Rainbows."
4. Book: The First Born Advantage by Dr. Kevin Lehmen.  I LOVED this book.  Usually, unless a book has a creative, intense plot, I'm not interested.  But this a book dissecting personalities and people, which is one of my favorite secret pasttimes.  It has given me insights into why I am motivated by certain things, why certain people act the way they do.  It has given me a lot more grace for my siblings and cousins with different birth orders.  When they do things differently, they have a legit reason to – it isn't just to drive me crazy.  I really enjoyed it.  Dr. Leman has a great sense of humor and communicates really well.
5. Video: Studio C.  Oh.my.gosh.  This is a comedy team that met at BYU (they were part of a team there and continued together after graduating) that is clean, witty, and absolutely hilarious.  I have spent many a night watching episode after episode.  Season 4 just began a couple weeks ago!  I know, I know, you don't need to spend time watching YouTube videos BUT this is different.  Trust me, I'm not a YouTube junkie and these guys are so funny.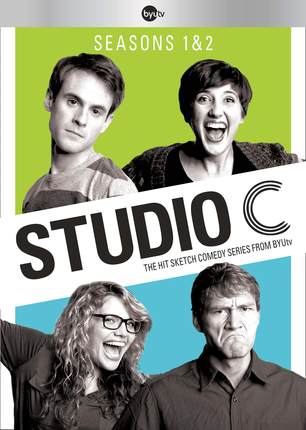 6. Tech Win: Getting Mail Chimp Set Up.  Moving from Blogger to WordPress has forced me to take crash courses in everything blog related.  In order to conserve bandwidth and blah blah blah, I had to delete Jetpack which meant I had to set up an alternate subscriber option.  Which meant I had to track down and find all my subscribers from the old blog and this one and get a RSS campaign set up on MailChimp.  It took me an entire afternoon, but I did it.  And I'm kind of proud.  If you want to see my handiwork, enter your email and subscribe in the sidebar.
7. New Blogger I'm Loving: (OK, I have two)
Josefine @ The Smoothie Lover.  It just so happened that after I finished writing this post, I got her comment telling me she had nominated me for the Liebster Award.  (But don't think that anyone who nominates me for an award is my new favorite 😉  But it did make my day!)  Josefine's blog design caught my eye first; it is cute AND elegant, which is my dream combo.  Plus, her blog title – how could you not love it?  She has such a sweet writing voice and I spent a looong time scrolling through all her recipes.
Julie @ This Gal Cooks.  For some reason, I always assume that big bloggers are above me, you know?  They've got their own busy blogging lives that include big blogger stuff, like going to conferences with their friends and baking up gourmet foods and basically out of time for little bloggers … I know, its not logical.  So when I found Julie via Twitter and realized how fun, engaging, and talented she was, I had to rethink my thoughts 🙂  I'm also crushing on her blog design and especially her lemon coconut pudding cups.  For being incredibly successful, she is incredibly down to earth and I've enjoyed back stalking all her post (yes … I do that, too)
8. Food finds:
Carrot Cake Cinnamon Rolls from Bethcakes.
Salt n Vinegar Sweet Potato Chips from le Crème de la Crumb
Glazed Babka Chocolate Rolls from Cinnamon Spice and Everything Nice
Dark Chocolate Raspberry Banana Bread from Sally's Baking Addiction
9. Questions:
favorite entertainment of the week?
blogger I should check out?
resale or retail?